AMERICAS WILL BENEFIT MOST WITH IVC FILTER MARKET GROWTH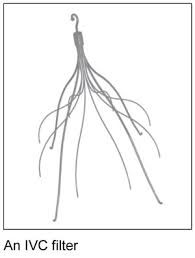 Market research analysts at Technavio predict that the global inferior vena cava (IVC) filter market will grow steadily during the next four years and post a CAGR of more than 11 percent by 2021.
This market research analysis identifies the preference for minimally invasive procedures with improved medical imaging as one of the primary growth factors for this market.
Medical facilities across the world are shifting toward minimally invasive procedures, leading to the expansion of treatment options for peripheral vascular disease (PVD) such as deep vein thrombosis (DVT) as these procedures help to minimize trauma and pain, and help reduce the risks of infection in the blood vessels. An untreated PVD condition can prove to be fatal.
One of the latest trends that will gain traction in the global IVC filter market in the coming years is the strategic acquisition of business segments. Market leaders in the medical device sector are acquiring business segments of the smaller companies as it will help them increase sales and generate higher revenue.
The global IVC filter market is highly competitive due to the presence of numerous vendors operating in the market. The market penetration for IVC filters is increasing due to the increasing incidence of DVT and pulmonary embolism (PE). Companies are engaged in mergers and acquisitions, which helps them in strengthening the product line and the products are also being sold through distribution partnerships.
Leading vendors in the market are Boston Scientific, Cardinal Health, Cook Medical and C. R. Bard. Other prominent vendors include Argon Medical Devices, Philips Volcano, ALN, B. Braun, Braile Biomédica and VENITI.
Segmentation by product type and analysis of the IVC filter market include retrievable IVC filter and permanent IVC filter
There has been a growing interest among the key vendors in various clinical trial studies on retrievable IVC filters, where individuals are at a high risk of clinical PE development and cannot be anticoagulated.
These devices are the gold standard for the treatment of blood clot and revascularization regardless of the higher demand for thrombectomy devices. Additionally, the preference for retrievable IVC filters is high due to the ease of use and high success rate.
Geographical segmentation and analysis of the IVC Filter market include the Americas, APAC and EMEA.
This market study estimates that in terms of geographic regions, the Americas will be the major revenue contributor to the market by 2021. The IVC filter market in the Americas is affected by the factors such as increasing incidence of CVDs such as DVT, PE and other PVDs.
The presence of experienced professionals, medical reimbursements, and better hospital infrastructure affects the market growth of IVC filters. Also, the increase in the older adult population has resulted in the growing demand for peripheral vascular intervention procedures, paving way for the IVC filter market in the Americas. VTN
For a free sample report, see technavio.com/report/global-inferior-vena-cava-ivc-filter-market-2017-2021?utm_source=T4&utm_medium=BW&utm_campaign=Media