FORMER GE HEALTHCARE VALUE-BASED CARE SOLUTIONS GROUP REBRANDS AS VIRENCE HEALTH TECHNOLOGIES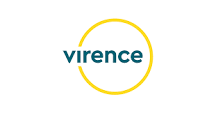 The Value-Based Care Solutions Group, recently acquired by Veritas Capital from GE Healthcare, today announced its rebranding to Virence Health Technologies. The company is a leading software provider that leverages technology and analytics to help healthcare providers across the continuum of care effectively manage their financial, clinical and human capital workflows.
"Our new name, Virence, positions our company as an indispensable partner to our customers," said Bob Segert, Chairman and CEO of Virence. "Virence plays an essential role in helping customers thrive in an increasingly complex environment, and we intend to combine fast-moving innovation with an unmatched passion for success to positively impact our customers' evolving business needs."
Virence's revenue cycle, ambulatory practice and workforce management solutions are backed by advanced analytics and are driven by over 30 years of expertise in healthcare software and services. The Virence portfolio includes:
Revenue Cycle Management Solutions: Powerful tools, services, and an EDI Clearinghouse optimize revenue cycle operations, better connect payers and providers, and enable customers to thrive in an environment of mixed reimbursement models.
Ambulatory Care Management Solutions: Comprehensive solutions streamline primary and specialty care workflows including EMR, clinical documentation, quality reporting, analytics, and population management.
Workforce Management Solutions: Industry-leading software, analytics, and consultative services empower health systems to manage labor costs and optimize their workforce, enabling quality patient care delivery.

Current Virence customers are looking forward to continued collaboration to drive outcomes to help improve healthcare. Dr. Fred Rachman, CEO of AllianceChicago said, "This is an exciting milestone for Virence. We are thrilled to be working with such an innovative company and look forward to continuing to utilize their cutting edge technology as we work to transform Community Health." Etan Walls, CEO of Adjuvant.Health, added, "Virence is a rare company with an innovative and thoughtful leadership team. This rebirth will allow the Company to continue to change our world with the same empathy, respect, quality, and determination they have always shown, and we look forward to working with them for years to come."
For more information, visit www.virencehealth.com and follow Virence on Twitter at @VirenceHealth and on LinkedIn.
About Virence Health Technologies
Virence Health Technologies is a leading software provider that leverages technology and analytics to help healthcare providers across the continuum of care effectively manage their financial, clinical, and human capital workflows. Offering a comprehensive suite of innovative technology-enabled solutions, Virence aims to improve quality, increase efficiency, and reduce waste in the healthcare industry. Learn more at www.virencehealth.com.
About Veritas Capital
Veritas Capital is a leading private equity firm that invests in companies that provide critical products and services, primarily technology and technology-enabled solutions, to government and commercial customers worldwide, including those operating in the aerospace & defense, healthcare, technology, national security, communications, energy, government services and education industries. Veritas seeks to create value by strategically transforming the companies in which it invests through organic and inorganic means. For more information on Veritas Capital and its current and past investments, visit www.veritascapital.com.