COVID-19 AND OUR COMMITMENT TO OUR ADVERTISING PARTNERS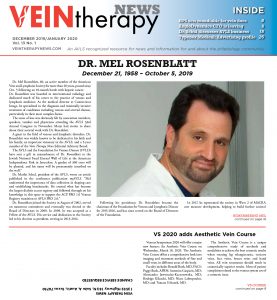 Dear Vein Therapy News clients:
The health and safety of our clients and employees is our highest priority. In normal times, we would see you at medical conferences and site visits. Because of the danger of contracting or spreading the coronavirus disease COVID-19, many of us will not be able to take our products and services to medical conferences for several months. We have already seen that this will have a negative economic effect on vendors.
The International Vein Congress, Venous Symposium, OEIS 2020, and AIUM 2020 have postponed their annual meetings. Other medical conferences and meetings have been cancelled.
Public health authorities in New South Wales, Australia, said that a radiology seminar in the country in February is actually linked to two cases of the COVID-19 in physicians who tested positive for the virus following their scientific meeting.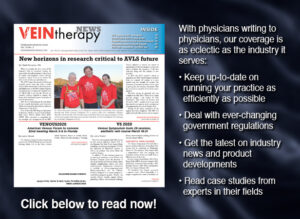 Your products and services are vital to the physicians you serve regardless of the social distancing required to slow down the spread of the virus through the population.
Because of the uncertainty of conferences and meetings and social distancing, we invite you to use Vein Therapy News to put your marketing message on the desk of physicians you would normally be able to visit at various conferences and meetings, or see in face-to-face in sales calls. We are delaying production of the APRIL/MAY issue for a week to allow other companies an opportunity to safely put their marketing message in front of their customers and potential customers.
Call Gary Pittman Jr. at 512.637.0373 or email garypjr@pcinews.com .
The JUNE/JULY issue will be the conference issue distributed at the IVC and VS
Let us take your advertising message to both of these events!